This stuff with the coronavirus is pretty scary at the end of the day.
It wasn't all that long ago that my wife and I watched the movie Contagion and saw how quickly something could spread if it got bad enough.
Some folks are getting really sick and as of right now there isn't all that much they can do about it if you do get sick. The thing is, illnesses do not discriminate across political parties.
However, there are some people that think that making people sick is the way to go.
Candi CdeBaca, a Denver City Councilwoman, is finding herself in hot water after indicating she stands in "solidarity" with others who claim if they "catch the coronavirus" they will make sure to "attend as many Trump rallies as they can." The Denver Democrat, who is called the next "AOC," didn't know what hit her as Americans utterly torched her. You'll love this.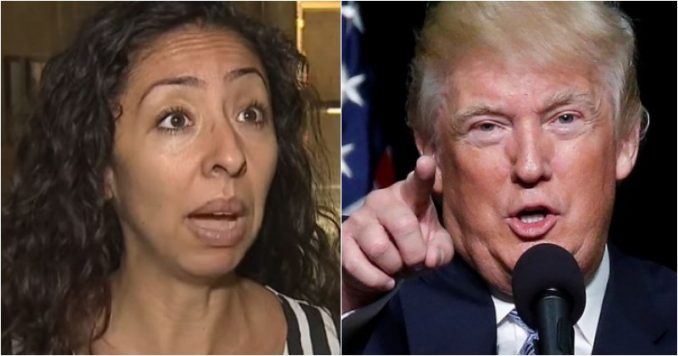 Instead of being embarrassed and apologizing for an ill-advised tweet, Denver City Councilwoman Candi CdeBaca is double down on her disgusting sentiments. It seems as if Trump supporters are fair game no matter what the context with certain leftwing nutjobs.
It all started with a tweet that caught CdeBaca's eye. Susan Daniel posted: "For the record if I do get the coronavirus, I am attending as many Trump rallies as I can." Daniel later deleted the original tweet, but unfortunately for her, it was screen captured by conservative reporters.
The Denver City Councilwoman responded, "#solidarity Yaaas!" It was followed by laughing emojis and the "OK" sign.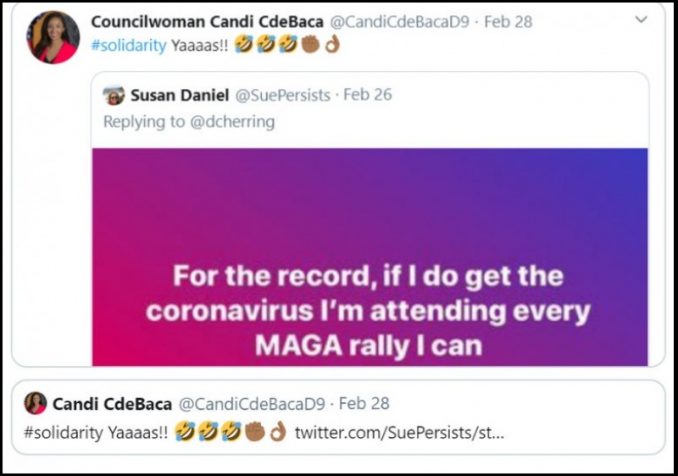 Candi CdeBaca blames Trump claiming he is calling the coronavirus a "hoax." 
While the original tweet was rightly deleted, Candi CdeBaca loved the notoriety. Even though her hometown press had gotten wind of the tweet, the leftwing councilwoman decided it was totally appropriate.
"She said the message was actually about calling attention to President Donald Trump's unsatisfactory response to the spread of the virus, COVID-19, which has not yet hit Colorado," the Denver Post reports. 
"But the statement wasn't meant seriously, said CdeBaca's spokesperson Lisa Calderón in a text message. Instead, it was a 'sarcastic tweet… to call attention to the Trump administration's downplaying of the Coronavirus outbreak as a hoax no more dangerous than the common flu,'" The Post adds.
Well, not only is this councilwoman spreading vile sentiments toward Trump supporters, but she is also spreading the lie that the president called the coronavirus a "hoax." This is a much-repeated lie by the mainstream media. Trump said exactly what CdeBaca is doing is the "hoax" — making allegations he has not handled the virus correctly.