We should all be proud of who we are, and none of us should be ashamed of who we are.
The fact that there are liberals out there that would want us to feel bad about the way we were born is absolutely wrong.
The fact that there are people that would want to do this to kids is even worse.
"Not My Idea'', is the latest book in the series of acclaimed stories about witnesses. In the chapters, a white, young, boy sees television news covering a white police officer who is shooting a brown individual, yet the character's hands were up.
The child gets upset and asks the mother why the police didn't arrest the brown person instead. During the session that seems to be interrogative, the mother deflects. She assures her child that they are safe.
Before the day ends, the duo visits an extended family (an aunt as well as an uncle). While watching the television, a rally is aired in response to the shooting that occurred earlier in the day.
The young man catches a glimpse of a busy press conference trying to garner information from the victim's family. The aunt interjects that she cannot watch the news.
Anastasia Higginbotham accompanies the child in his quest to face history. The activities implore children to cultivate the virtue of fairness and justice just like in planting a bean sprout in a carton of milk.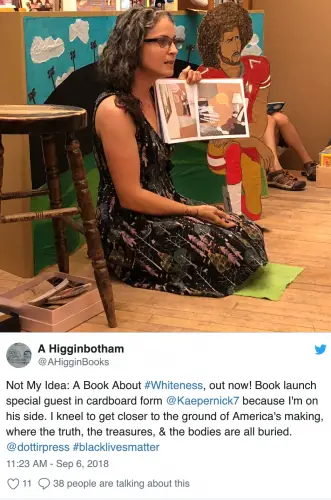 Being her latest project, she's traveling across the country to do readings designed to teach children regarding the significant issues surrounding racism.

It's not only Anastasia Higginbotham's book that's caught people's attention but to some extent the way she presents the series of events.
The central visual aid that Anastasia Higginbotham has been using to educate children about the impending issues affecting their society is a direct reflection of Colin Rand Kaepernick's life.