A classic lesson but somehow effective.
A father of three from Phoenix, Arizona, has taken a tough-love approach to reprimand his teen son, who stole the family's Range Rover for a joyride. The concerned dad then laid out his son's belongings on the sidewalk and gave them away for free.
14-year-old Angel Martinez landed in some hot water after taking his parents' Range Rover out for a joyride without their permission and (most of all) without a license. Yikes! Now, they're making sure he never does it again by giving away every single thing that was in his bedroom.
Mom and dad were in Las Vegas celebrating their anniversary and received a call from Phoenix Police. The couple's Range Rover was spotted speeding around the neighborhood.
"I just wanted to drive but I don't have a license so I just took it," Angel told Fox10. "I can wash the car, and I was like I don't have anything to dry it, so I'm gonna take it for one spin until it dries."
This apparently isn't the first time Angel has been in trouble, which tends to happen when your parents are dumb enough to leave you unsupervised while they party in a different state, so the best form of punishment was to make the teen give away all his stuff.
For hours, Angel sat on his bed with a sign that reads: "Sorry I stole my parent's car and was speeding."Clothes, television, and the bedroom set were given away for free. Angel's belongings went as fast as the range rover he was driving.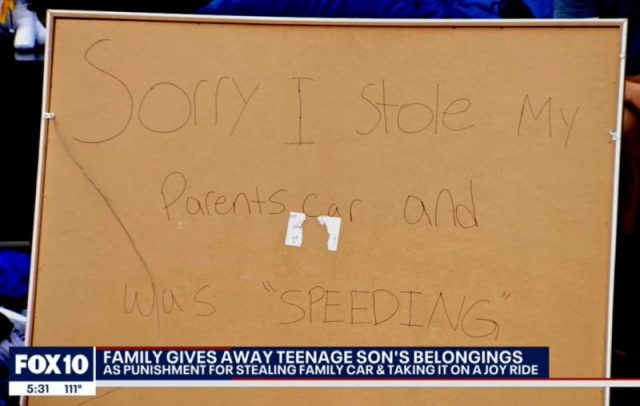 For hours, Angel Martinez sat outside on his bed with a sign that read, "Sorry I stole my parents' car and was speeding."

Angel's dad, Ramon Martinez, said the punishment was also meant to be an apology to neighbors. "We're neighbors as well. He could've run someone over. Something really bad could've happened."
Here's what the disappointed dad said, expressing his hopes for his style of parenting:
"Hopefully, you know, you do what's right, and you'll be able to tell later in the years. For now, you know we're just trying to do our best to keep him out of trouble and make sure he understands that things like this will not be tolerated." 
Ramon said that his son will be sleeping on the couch for some time in the near future to ensure his lesson has been learned.
"It's kind of weird, but I think it's a fair punishment," the teen said.
For some, Ramon's unorthodox punishment for his son may seem amusing compared to what could have transpired. However, according to Criminal Defense Lawyer Ave Mince-Didier, joyriding is usually classed as a misdemeanor but can, under certain circumstances, be charged as a felony.