It seems to me that karma can be a fickle mistress. I've witnessed no end of examples in my life of someone doing wrong but seemingly not being punished for it, which is why it tends to make me happy when people are served at the table of justice.
Kevin Rojas was 19-years-old when he attempted to kill an undercover Jacksonville Sheriff's Office officials, shooting him four times through his car windshield.
Fast forward two years and a smiling, smug Rojas appeared in court for sentencing, only to find that the officer in question had got him a 'going away gift'
Kevin Rojas, a 21-year-old who shot a Jacksonville Sheriff's Office officer during a gun battle in 2016, was sentenced to life in prison.
The officer, who Action News Jax is not identifying because he continues to work in undercover operations, spoke at the sentencing and not only had several words for Rojas but brought along a visual aid to convey a pointed message:
"I will take those bullets instead of a fellow officer or innocent bystander," the officer, who was ambushed by Rojas, said on the stand. "When I brought the fight back, you ran like a coward."

"I brought a little gift for you," the officer said. "You will need it where you are going."
The officer then pulled out a bottle of lotion.
In March 2016, the officer noticed Rojas driving erratically in west Jacksonville. The officer, who had his son in his unmarked car, tried to pull over Rojas, but Rojas stopped and began firing at the officer.
The officer returned fire, and Rojas fled. Rojas later stole a truck and was shot three times while engaging other officers who rushed to the scene.
The state called the ambush of the detective "any officer's worst nightmare."
The judge told Rojas he struggled with the implication of what happened the day the teen decided to attempt to kill the officer in cold blood. He said he could not comprehend how Rojas could arrive at the decision to open fire with an intent to kill. As the judge read Rojas' sentence, he said, "I'm pretty sure Mr. Rojas doesn't understand what the rest of his life means."
The officer's gift received mixed reviews from social media users. While many applauded the officer for being brave enough to confront the man who attempted to kill him, others criticized him for taunting a criminal, despite the fact that the thug tried to murder the policeman and his son.
One Facebook user commented, "Too bad the cop [didn't] take out his weapon in the courtroom and kill that piece of s**t right there save taxpayers a lot of money."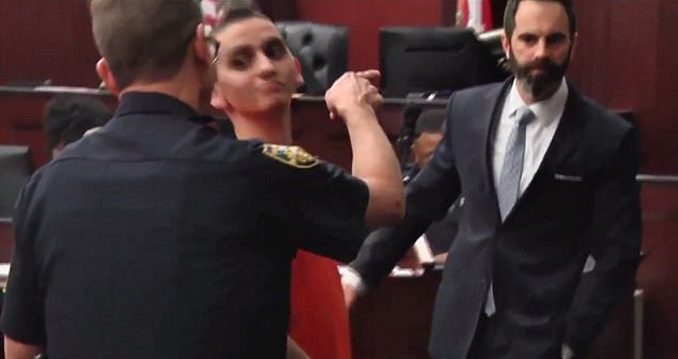 "I shouldn't laugh, but that is priceless. It's good the creep didn't kill anyone and that the teenage son wasn't injured," while another added.
Another wrote, "Good for that cop, a very appropriate going away present for the thug. Awesome,"
"I don't blame the cop. This clown wrecked his life for nothing. The judge did the right thing. This nut cannot be loose. When he is 60, if he lives that long, he may be better. If they can let him out then, maybe. I would not lose much sleep over it for now," Another commented.
However, the critics called into question the cop's professionalism. One reader commented:
"A real professional that officer. You may be frustrated however you have no integrity nor honor in your use of a gimmick, a stupid one at best, during your speech at the sentencing of this thug. Hope the department sees what you really are."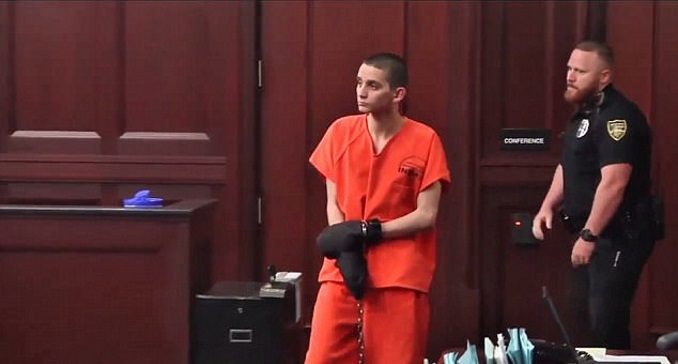 One reader wrote, focusing on harsher punishment for Rojas:

"A life sentence makes no sense. Anyone dangerous enough to be imprisoned for life should simply be swiftly terminated instead of remaining a drag on society for years to come."
Kevin Rojas' family reportedly fled the courtroom in tears after his sentencing since they surely understand the implications of the young man's sentence, even if he was too ignorant to fully grasp what "life" is just yet. Luckily, time has a way of bringing about an understanding for people, and Rojas, who has a lot of time ahead of him, is no different — only his will be a very tormented reality. But, I don't think too many people are going to sympathize with him.
Watch it here: Youtube/wwwMOXNEWScom